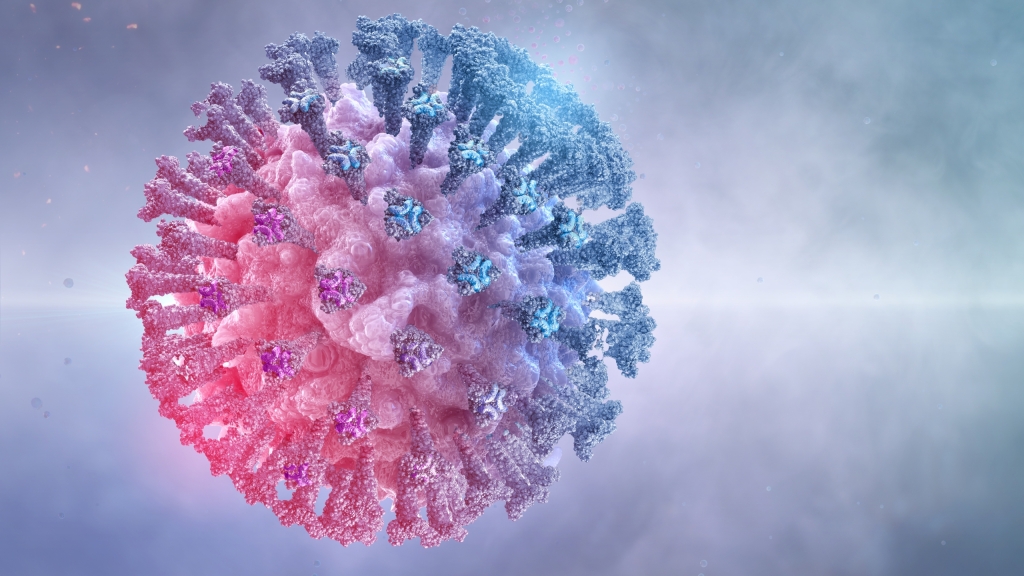 The country is seeing a big upswing in COVID-19 numbers mostly due to the emergence of possibly the most infectious variant yet, according to UAB officials.
Jeanne Marrazzo, director of the Division of Infectious Diseases at UAB, said about 85 percent of current COVID strains are a variant of Omicron referred to as BA.5.
"The really tricky part about BA.5 is it's probably the most infectious COVID variant that we've seen so far," Marrazzo said. "You may have heard stories about friends who've been really careful with masks but they happen to take their mask off with a quick trip in the car or they were at a wedding and had dinner with people and came down with COVID. The bar to prevent transmission of BA.5 is just that much higher. There's no question, you can prevent it with very good masks. But the diligence, the persistence and the consistency of mask-wearing —and probably also being thoughtful about how you are in a closed space, what's the ventilation like — all those things have come back into play in sort of considering the risk for BA.5, so it's definitely more infectious."
Alabama is among the most infectious states right now, with the fifth most cases per capita.
Marrazzo said the other contributing factor is the waning efficacy of vaccines in preventing spread of new COVID strains, although the protection against severe illness remains strong.
"We're really not seeing the kinds of hospitalization rates that we saw before," Marrazzo said. "Our census here at UAB has been stable for the last month in Alabama at large. We have about 850 people who are hospitalized, well below our horrible surge of over 3,000 when we were dealing with the earlier waves and that was our max. So I think that the news overall is pretty good."
Marrazzo expects a new vaccine to be developed to better prevent the spread of BA.5, although there's no telling whether it will be the dominant strain by the time the vaccines are ready for the public. 
David Kimberlin, co-director of UAB and Children's of Alabama's Division of Pediatric Infectious Diseases, said there is more confidence as students begin returning to school that COVID-19 isn't the threat that it once was.
"I think over the past two-and-a-half years we have not seen schools to be an epicenter of community spread," Kimberlin said. "And so that that makes me a little bit more confident as we approach the next school year."
Kimberlin acknowledged that most schools will probably not require masks, although he still advised that wearing masks indoors is recommended as transmission is high right now.
Marrazzo addressed the reality of "Paxlovid rebound," where people are taking the COVID-19 treating drug only to feel the effects of COVID-19 once again after taking the medicine.
"You're seeing people who essentially take Paxlovid for five days, and they feel better clearly when they're on it," Marrazzo said. "Usually they feel better within 24 to 48 hours, especially if they've had a fever, chills, those tend to resolve with Paxlovid. But then what happens is they stop taking the packs and two to three days later, they start to have either a recurrence of their symptoms or some new symptoms. Usually those symptoms are not as severe, but they can be."
There is no good data to have a definitive number of how many people are experiencing this Paxlovid rebound, Marrazzo said, but estimates 10 to 20 percent of people might be affected.
There are two prevailing theories about what is causing the rebound. One possibility is that it blocks COVID from multiplying, leading to patients feeling better, but does not fully eradicate the illness.
"So you still have a reservoir or a storage unit basically of the virus in your body," Marrazzo said.
Which begs the question of whether Paxlovid should be taken for a longer period of time instead of only five days. Marazzo said she has recommended to people with severe rebound cases restart the Paxlovid, but cautioned that is not yet an evidence-based recommendation.
The other theory is that Paxlovid prevents the body from mounting it's own immune response in the early phase of the illness and therefore leaves the body more susceptible to the return of symptoms once the medicine is no longer being taken.
Although schools may not be an epicenter of community spread, Kimberlin said he is still concerned about schools choosing not to follow CDC recommendations to help revent the spread.
"I am concerned when school districts don't follow the CDC recommendations— I see no reason not to," Kimberlin said. "Just as I see no reason for grocery stores not to follow the CDC recommendations or banks not to follow the CDC recommendations. We should all be doing this. If we don't, then we get what we get. We get more virus in our community for longer periods of time. And so you know, I think the thing about public health, which is what a pandemic is, is it requires the public to do their part."
Marrazzo said keeping track of COVID cases has become an "epidemiologist nightmare" for multiple reasons. Not only are many people not testing for COVID while they are symptomatic, Marrazzo said there is also evidence that antigen tests are less effective in positively identify the BA.5 variant.
Kimberlin stressed the efficacy of COVID vaccines for children, prevent serious illness, hospitalizations or death in up to 90 percent of kids. But uptake in vaccinating children has been "pitiful," Kimberlin said. 
"I mean, it really, really is poor. There's no other way to say it," Kimberlin said. "We're not having success here. I recommend that parents talk to their pediatrician and their family practice doc about it and I think what they're going to hear is a strong recommendation that your child be vaccinated and the vaccination is to prevent the child from having severe disease if they get infected."