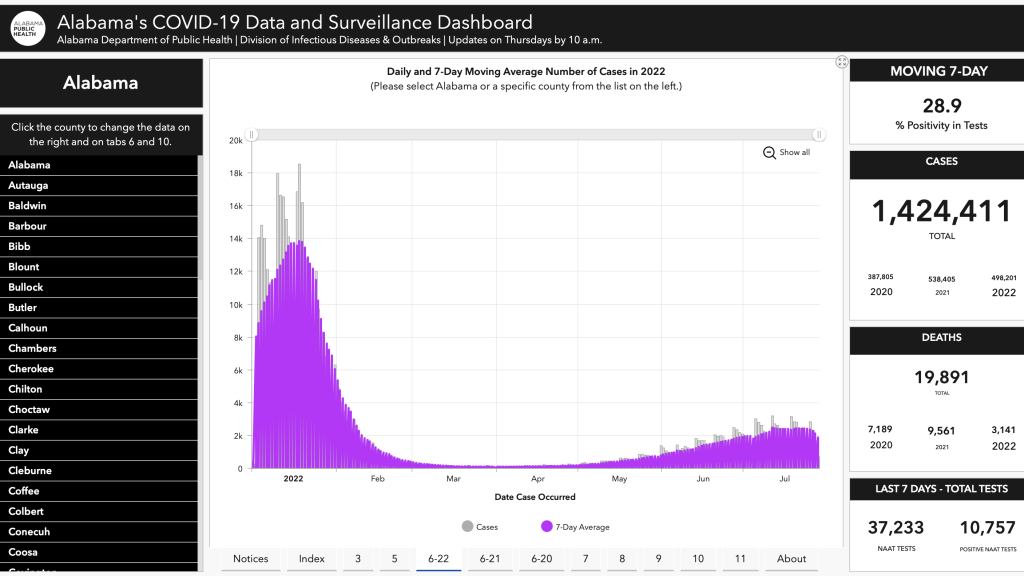 The Alabama Department of Public Health has announced that it has switched from daily to weekly updates of COVID-19 statistics on the department's data and surveillance dashboard, a step concurrent with ADPH's "crisis response to disease management" strategy released earlier in June. 
In an effort to minimize "daily disruptions to our lives," the department wrote in a notice released Monday, ADPH said that its data and surveillance dashboard for COVID-19, which has been a resource for deciphering the ever-changing status of the virus, will no longer be updated each weekday and instead refresh each Thursday morning. 
In a statement sent to APR on Wednesday, ADPH Chief Medical Officer, Dr. Karen Landers, said that the move is "consistent with CDC's shift to weekly updates" and that the department will continue to submit data to the Centers for Disease Control and Prevention on a daily basis.
Landers said the department "can shift back to daily updates if warranted." 
ADPH shifted to thrice weekly updates of their data and surveillance dashboard prior to the surge of Delta variant cases in mid 2021, later switching back to daily updates. After the wave of Omicron variant cases in late 2021, ADPH stopped updating data on weekends. 
The decision comes at a time when the state's COVID-19 positivity rate — the percentage of positive COVID-19 tests reported to state health officials — has climbed to 28.9 percent, according to the most recent data from ADPH. 
The positivity rate in COVID-19 tests remains the clearest current metric in determining the state's virus makeup despite only providing a circumscribed look into test results reported to ADPH. With the mass availability of at-home COVID-19 tests, whose test results often go unreported to ADPH, the true number of cases remains unknown.
In addition, the department's data show 680 individuals in state hospitals with COVID-19, a slight decrease from the previous week, but still a high number of COVID-19 patients compared to the last several months.
The BA.4 and BA.5 variants, both highly transmissible and the current dominant strains of COVID-19 nationwide, according to recent CDC estimates, have likely led to the increase in the positivity rate and hospitalizations seen in Alabama over the last several months.
The department's decision to move to weekly updates means that APR's COVID-19 data dashboard, which relies on ADPH's data, will only be able to update once weekly as well.